Cloud-based solutions—if properly secured with a solution such as SOC-as-a-Service—are powerful engines of transformation for today's SMBs.
Compared to on-premises options for workflow automation, collaboration, ERP and many other business functions, cloud services generally offer superior flexibility and scalability, especially if integrated as part of a hybrid cloud.
The upshot is reliable software that grows alongside your company, largely freeing you from the constraints of traditional IT.
Why SMBs HaveTurned to Cloud Computing
Consider the case of a popular golf tee time startup, GolfNow, which successfully migrated from a legacy IT architecture written in .NET and backed by SQL Server, to one that utilized the JavaScript-oriented MEAN stack alongside Google Compute Engine. The switchover helped GolfNow accommodate its explosive user growth.
Many similar stories are out there, as indicated by the shift to cloud consumption among SMBs:
A 2017 survey by SMB Group found that 53 percent of respondents planned to increase their technology investments this year, with an eye toward using cloud solutions to drive better business outcomes.
Ease and speed of deployment, as well as cost and flexibility, were identified as key reasons to invest in cloud platforms. Among organizations not in a position to move all or most applications into the public cloud, the control and security afforded by hybrid cloud and specialized hyper converged infrastructure were also appealing.
Security, more broadly, is a top concern for SMBs en route to the cloud. The National Cyber Security Alliance estimated up to 60 percent of SMBs suffering a hack or data breach go out of business within 6 months. Half have experienced a cyberattack.
"There are tradeoffs to consider when upgrading to cloud computing services."
As we can see, there are tradeoffs to consider when upgrading to cloud computing services. On the one hand, cloud enables SMBs to do a lot with a little—i.e., essential tasks can be completed virtually anywhere with internet connectivity.
However, there is the imperative that applications and data be secured, even in situations in which you don't have complete control over the entire solution stack.
How you approach your security responsibilities will depend on the service and deployment models in question, in addition to what tools (e.g., one with managed detection and response (MDR) capabilities) are brought to bear on common problems.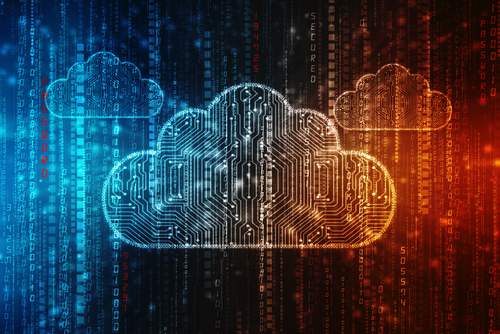 The different types of cloud computing and their respective security challenges
Many resources and applications are now delivered "as-a-service." However, most can fit into three broad categories, each with its own set of security necessities:
Infrastructure-as-a-Service (IaaS): The delivery of virtual compute, storage and networking resources. While the provider handles a lot of the underlying systems (including data centers and operating systems), you are responsible for databases, applications and security.
Platform-as-a-Service (PaaS): A remotely hosted platform for developing and running your own programs. Only the applications themselves typically require direct security attention from PaaS subscribers.
Software-as-a-Service (SaaS): Full applications that are delivered, managed, and maintained by third-party service providers. Accordingly, the vendor handles all security responsibilities, making SaaS a little more straightforward than either PaaS or IaaS.
Beyond these three service models, there are the different deployment models. We mentioned hybrid cloud earlier, so let's start there. Hybrid cloud is usually a mix of remote multi-tenant resources (i.e., public cloud) with on-premises single-tenant ones (i.e., private cloud). It leverages existing capital expenditures, while introducing the new efficiencies of relying on flexible operating expenditures.
Hybrid cloud is popular. The vast majority of enterprises surveyed for RightScale's 2017 State of the Cloud report confirmed having a multi-cloud strategy, with hybrid cloud easily outpacing multiple public- and private-cloud only setups. Its popularity makes sense because it ideally offers balance between security, control, scalability and cost.
Its benefits are substantial in terms of the variety of service architectures it can stitch together, but the associated security challenges are significant. They range from general concerns about the confidentiality and security of data passing through cloud infrastructures, to more particular anxieties about keeping firewall rules up to date and having data stored on the same logical database as another tenant.
Confronting these cloud security problems with SOC-as-a-Service
Working with a managed security service provider can help you navigate the many challenges associated with both IaaS/PaaS management and the overall oversight of today's increasingly complex hybrid cloud architectures. More specifically, an experienced, proven partner such as Arctic Wolf Networks (AWN) offers a comprehensive CyberSOC that empowers you to:
See all possible attack surfaces across your infrastructure, both on-prem and in the cloud.
Respond to anomalies in real-time, thanks to MDR and a concierge engineer service.
Customize your reports and policies so that they fit your security requirements at a given point in time.
For more information, check out the TEI Report.