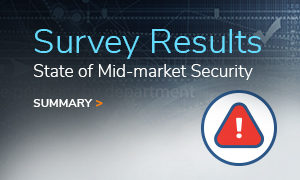 Results from a new survey, which indicate there is a false sense of security propagating amongst IT professionals in the mid-market space.
SURVEY RESULTS AND TAKEAWAYS >
Learn about the security gap that exists between the advice of security experts and the capabilities provided by limited security point products.
Our expert panel will provide their insights into why there is a disparity in the perception vs. reality of cybersecurity
and shed light on how companies can close this gap by setting the right security strategy for 2017.
THE PANEL
Moderator: Brian NeSmith, CEO and Co-Founder of Arctic Wolf
Speaker: David Monahan, Research Director at EMA Research
Speaker: Dan Limon, Sr. System Administrator at the Pasha Group
Speaker: Charles Muller, Director of IT at Threshold Enterprise