Arctic Wolf Data Exploration
Fast answers to critical security questions.
Data Exploration allows customers to work with their Concierge Security Team to identify and remediate risk in their environment.
Customers can explore raw logs and analyzed data while working with their CST to understand results and take action when needed.
With pre-defined workflows to address common operational security questions Data Exploration makes leveraging your security telemetry easy.
Two ways to leverage your data.
Data Explorer allows customers to access the same analyzed and enriched dataset used by their Concierge Security Team to investigate potential threats. By combining the ability query, pivot on, and investigate with access to security expertise Data Explorer enables customers to answer important operational security questions without the complexity and cost of buying and managing their own tools.
Log Search lets Arctic Wolf MDR customers query raw log data ingested by the Arctic Wolf Platform so they can better answer operational and security questions and maintain compliance requirements. Log Search enables customers to query log data from not only on-premises systems, but cloud SaaS and IaaS sources as well.
Arctic Wolf Log Search works with your existing technology stack, allowing you to see the complete picture with broad visibility.
We collect log information from a broad array of systems across your IT environment, including:
Powered by the Arctic Wolf Platform
Our cloud native platform provides security operations as a concierge service. It is designed to collect, enrich, and analyze security data at scale with dedicated security operations experts driving customized security outcomes that improve your security posture.
Discover Answers to Common IT Questions
Operational Log Search Queries
Technical Log Search Queries
Intuitive Log Search Interface
Simple interface enables users to quickly use log search tool.
Query Examples Speed Answers
Example templates for frequent searches facilitates rapid searching of data to harvest insights from operational log information.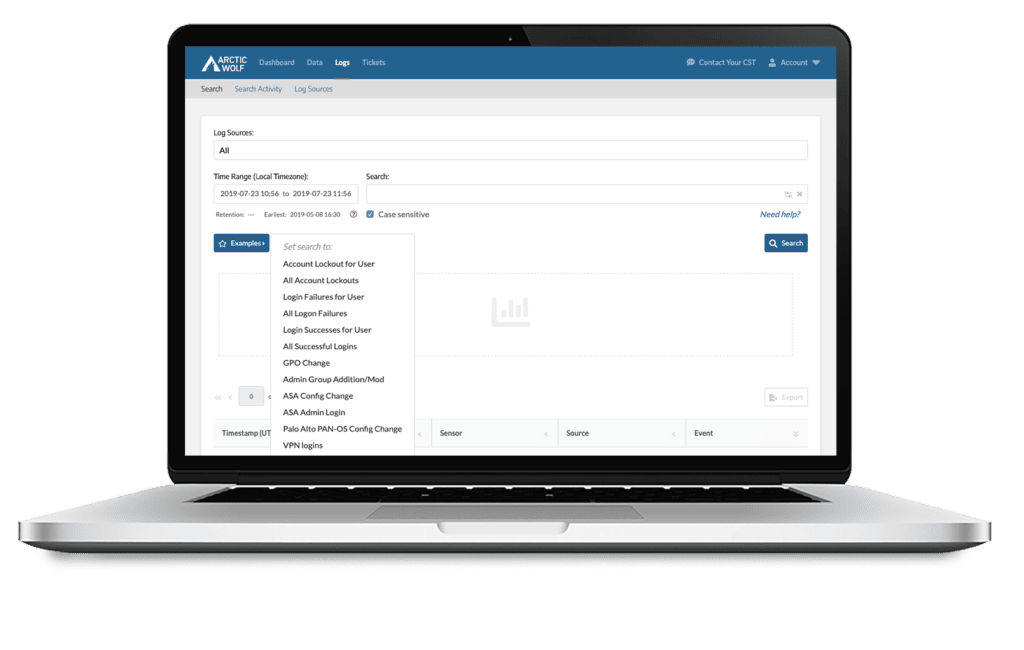 Histogram Summary Shows Hotspots
Search results include a histogram summary to understand data hotspots.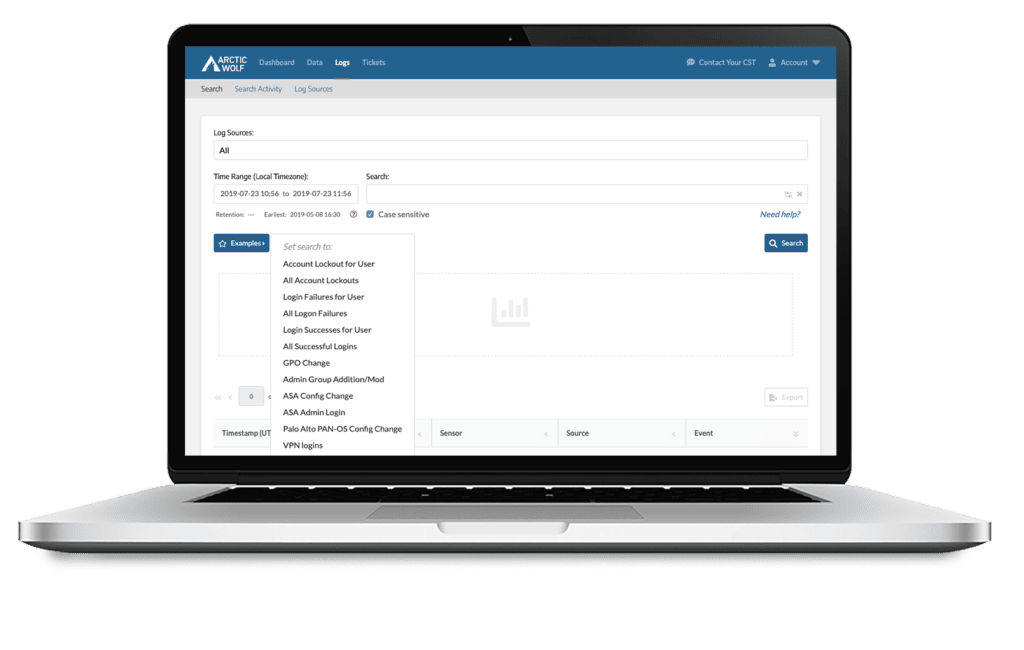 "Arctic Wolf acts as a force multiplier for our IT team. Arctic Wolf ensures Zelle's and our clients' data always remain secure. It has improved our security posture and helped us meet client security obligations."
Brian Hustad,
Director of Information Technology, Zelle LLP
Our cybersecurity experts are ready to help.
Fill out the form and we'll get in touch with you.