Last year cyber threats were at the forefront of the minds of many business leaders.
Not only did the Australian Cyber Security Centre (ACSC), receive over 76,000 cybercrime reports, an increase of 13 percent from the previous financial year, major cybersecurity incidents at Optus, Medibank, and others made cybersecurity a top of mind issue for many in Australia and New Zealand. 
To better understand the cybersecurity trends, attitudes, and beliefs in the region headed in to 2023, Arctic Wolf conducted a survey of 300 cybersecurity and IT decision-makers from Australia and New Zealand. The results aim to provide both practitioners and executives with additional insight into the threat landscape of the ANZ-region so that they can better understand the business and operational challenges they may face in the coming year. 
Key Themes and ANZ-Specific Findings from the Survey
Despite a Wave of Security Incidents and Lack of Dedicated Talent, Confidence in Ability to Secure Organizations Remains High
Nearly nine in ten (88%) IT and

c

ybersecurity

decision

makers have confidence in their team's ability to fend off a cyberattack

 

Despite this confidence, over two-thirds of organizations (68%) surveyed admit to having experienced at least one major security event in the last year. Over a third (37%) of those companies were victims of a phishing attack, while one-in-five (21%) experienced a business email compromise (BEC) incident

 

One-in-six (16%) respondents claim their organizations has no form of 24×7 security monitoring in place, and almost a quarter (23%) have no single person dedicated to cybersecurity full-time.

 
Economic Uncertainty is Causing Organizations to Refactor but not Reduce Cybersecurity Spending
62% of respondents said that their cybersecurity budget will increase this year, while only 3% plan to reduce spending

 

Despite the increasing budget for many organizations, 25% of respondents say they cut IT/security headcount last year, with 15% also expecting to conduct layoffs in 2023.

 

64% of executive leaders say they have procured cyber insurance for their organizations, with high costs (42%) and a lack of insurability (33%) cited as the top reasons for not having it.

 

The two largest challenges facing IT and cybersecurity executives face in securing their organization are the inability to keep up with advanced and innovative attacks (32%) and a lack of budget (14%)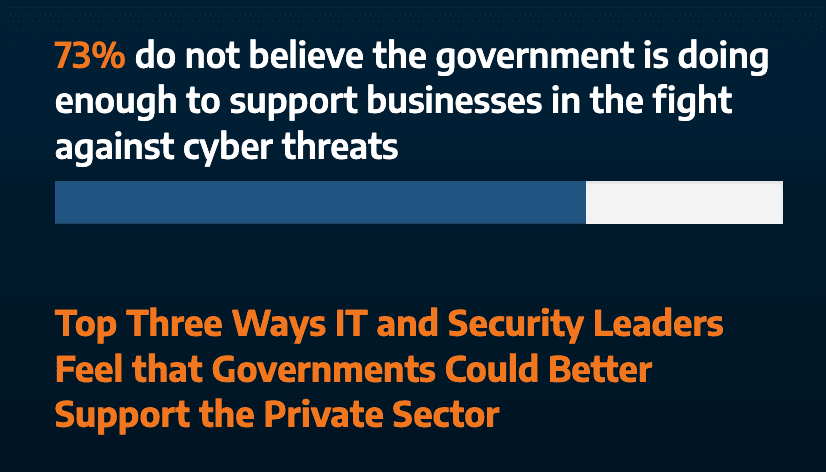 Culture of Concealment Persists as Opinions are Split on Ransomware Payments
One quarter (25%) of respondents claim their ANZ-based organizations have knowingly concealed a cyber-attack to preserve the reputation of their business 

 

Over a third (35%) of respondents would be willing to pay a five-figure ransom to threat actors to resume business operations, while 57% claim they would never pay a ransom

 
The Private Sector Remains Skeptical About Government's Ability to Mitigate Cyber Threats
Only a quarter (27%) of IT and cybersecurity decision makers believe the government is doing enough to support businesses in the fight against cyber threats

 

The top three ways IT and Security leaders feel that governments could better support the private sector are by providing better frameworks and best practices for cyber defense, sharing more openly timely threat intelligence, and releasing additional funding for infrastructure protection and public sector services

 
Research Method
Commissioned by Arctic Wolf, Sapio Research surveyed 300 IT and cybersecurity decision-makers and business executives in Australia and New Zealand. The survey's findings detail the happenings, attitudes, and beliefs that these leaders have on a wide array of cybersecurity and business issues. 
Learn more about How Trends Are Impacting the ANZ Region
View the Top Cybersecurity Concerns infographic with more key insights.
Learn how to implement the ACSC Essential Eight Mitigation Strategies.