Our mission at Arctic Wolf is to end cyber risk, and our North Star on that mission is the NIST security operations framework. Spanning five functions (Identify, Protect, Detect, Respond, Recover), the NIST framework offers guidelines and best practices that when followed, allow an organization to both reduce the likelihood and the impact of cyber-attacks. 
When Tetra Defense joined Arctic Wolf last February, we set out to help Arctic Wolf further enhance Arctic Wolf's respond and recover capabilities by bringing our unique approach to incident response to their portfolio of security operations offerings and across their entire channel ecosystem.
Over the past twelve months, as we've worked closely with the legal and insurance industry, Arctic Wolf customers, our channel partners, and various internal teams, we've been able to introduce several new offerings that help address the business resilience challenges faced by many organizations, including: 
IR JumpStart Retainer

– A revolutionary incident response offering that helps organizations proactively plan for, and rapidly respond to, cyber incidents with industry-leading time-to-

remediation and without the high upfront costs of traditional IR retainers. IR JumpStart keeps what works with traditional IR Retainers and ditches what doesn't.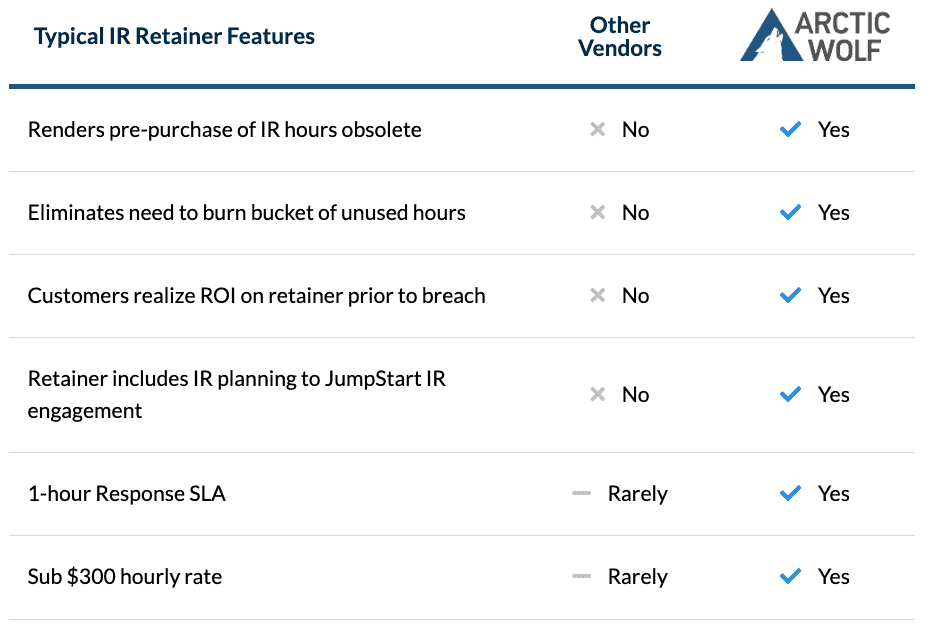 Integrating Tetra Defense's front-line incident data with the Arctic Wolf Security Operations Cloud to further enhance threat detections and protection for Arctic Wolf customers, while also bolstering

Arctic Wolf Labs'

capacity to

produce novel threat research

.

 

Expanded the availability of our services to the broader Arctic Wolf channel ecosystem with innovative portfolio offerings.  

 
As Tetra Defense has become deeply engrained in Arctic Wolf's culture and solution offerings, we felt that our team needed a new name that better reflects the seamless integration of technology and services within Arctic Wolf and the holistic approach to security operations we help to deliver. So, as we begin the new year, Tetra Defense will now be known as Arctic Wolf Incident Response. 
While we are changing our name, the team, and our commitment to the cyber insurance and legal communities will remain the same, Arctic Wolf Incident Response will continue to be the go-to partner for cyber insurance companies looking for a reliable, fast, and innovative incident response team to serve their client during a cyber incident. Along with the rest of the Arctic Wolf portfolio, we will be able to confidently support customers with their security operations, regardless of where they are in their security maturity.  
In addition to supporting our legal and insurance partners, this transition will serve as an opportunity for our team to further expand and develop new business resilience offerings that bring our unique approach to incident response to new markets, new channels, and new customers. 
By combing the expertise and insights of Arctic Wolf Incident Response with the power and scale of the Arctic Wolf Security Operations Cloud, Arctic Wolf is the only security company that can offer solutions that span the entire NIST cybersecurity framework. Our approach helps customers and partners to not only reduce the likelihood and minimize the impact of cyber incidents, but to also help them build resilience for their business.  
Ending cyber risk is possible, and I am excited for the role that the Arctic Wolf Incident Response Team will have in helping organizations of all sizes throughout their security journey to make it a reality. 
If you are a current Arctic Wolf customer, or an organization looking for a game changing approach to incident response,

learn more about our IR JumpStart Retainer.

If you are a reseller looking to offer your clients world-class security operations which includes a revolutionary approach to incident response, apply to join the

Arctic Wolf Partner Program

.

 

If you are a member of the insurance or legal community and want to work with the Arctic Wolf Incident Response team, or learn more about our unique approach,

reach out to us

.