I am pleased to announce that Arctic Wolf has been named a Leader in the IDC MarketScape: U.S. Managed Detection and Response Services 2021 Vendor Assessment (doc #US48129921, August 2021). We believe our leadership position in this prestigious industry evaluation is validation of Arctic Wolf's vision for setting a new standard for security operations, pioneering the first cloud-native security operations platform to end cyber risk.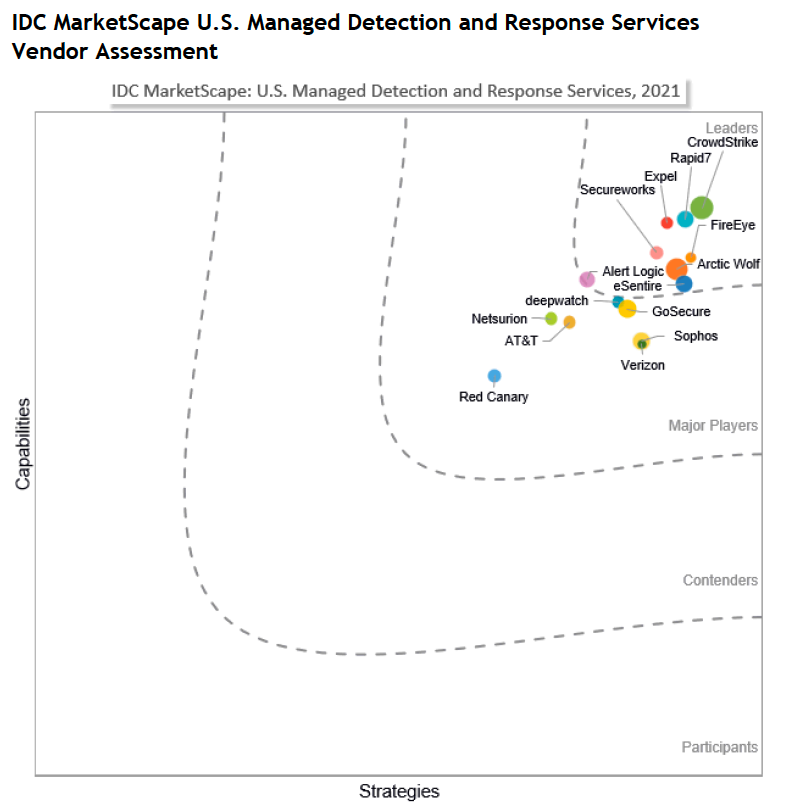 According to the IDC MarketScape "The company (Arctic Wolf) aims to provide simple, easy, personalized consumption that hides complexity and doesn't require a rip-and-replace approach. To this end, a concierge engagement model defines roles and responsibilities for Arctic Wolf and customers in areas such as activation, deployment, customization, service delivery, ad-hoc requests, and scheduled interactions."
We could not agree more. We're on a mission to help organizations end cyber risk by identifying, detecting, responding, and recovering from threats.
Our cloud-native security operations platform spans the complete security operations framework, including Managed Detection and Response (MDR), Managed Risk, Managed Cloud Monitoring, and Managed Security Awareness—delivered by the industry's original Concierge Security® Team.
The IDC MarketScape went on to further highlight the strengths of the Arctic Wolf platform, including:
Arctic Wolf has well-developed roadmaps in areas of managed service, managed detection, and managed response. Breadth of visibility is excellent, and the company expects to invest in orchestration and automation and to develop an enhanced MDR tier and offerings for specific customer segments.
The four current U.S.-based SOCs will be supplemented in the near future with SOCs in Germany, APAC, and North America to expand Arctic Wolf's capabilities to address customers in those geographies both with their platform and with their Triage and Concierge teams. Having a team that is closer to the customer is a benefit, as the company does not send an incident to a customer until it has been looked at by a human during what Arctic Wolf calls the "the last human mile of triage."
The concierge team, which provides unlimited support, works with each customer to build and execute a security journey aligned with organizational goals and objectives. A customer commented that the level of service is "off the charts."
We believe our strong position in the MarketScape reflects the company's emergence as the security operations provider of choice for companies of all sizes and verticals. With approximately 3,000 total customers, Arctic Wolf has established itself as the fastest-growing company, in the fastest-growing area of the cybersecurity market.
In the past year, Arctic Wolf's business doubled in both revenue and headcount as the company expanded its customer base with a cross-section of mid-market and enterprise organizations, including 438% year-over-year ARR growth in the large enterprise market.
Arctic Wolf was founded with the belief that the Security Operations market was ripe for disruption as existing solutions were failing customers and not keeping pace with the increased sophistication of cyber attack. We believe this tremendous validation from the IDC MarketScape is evidence of our enormous success in establishing Arctic Wolf as a leader in MDR. Our explosive global demand from organizations looking to protect their hybrid work environments, drive secure cloud adoption, and formulate an actionable strategy to end cyber risk only continues to increase.