Since 2012, thousands of businesses have come to trust Arctic Wolf to enhance their security posture and keep their data and reputation safe in an evolving threat landscape.
But exactly how much time and money have we been able to save organizations?
To answer this question, and to better understand the benefits, costs, and risks associated with an investment in Arctic Wolf, Forrester interviewed two customers with extensive experience with Arctic Wolf's Security Operations solutions. Their findings were compiled in the TEI Report of Arctic Wolf Security Operations Solution.
The Businesses And Their Cybersecurity Needs
One of the customers is a regional bank in the United States with extensive regulatory overwatch and an explicit need for cybersecurity. With growing locations, they were unable to scale security operations to match the growth and regulatory pressures they face.
The other customer is one of the largest global law firms with over two thousand endpoints and upwards of 500 servers. This organization relies on a small security operations team that is augmented with Arctic Wolf's services.
"Arctic Wolf distills billions of events for us into 15 escalations that we actually need to review. What type of time savings does that say?"

-Interviewee
Over a three-year period, both organizations improved their security posture and saw impressive financial and time-saving benefits.
The Value Of Arctic Wolf For Our Customers
Quicker time-to-value delivery with Arctic Wolf resulted in a savings of $966,888.
Avoiding software and infrastructure costs to reach same level of security saved $1,415,505.
Delivering an NPV of $2.3 million and an ROI of 411%.
Saving 90% of effort for IT operations that are involved in incident management. This benefit delivered a three-year savings of $557K (PV)
Reduction of security alerting noise by 60%.
Time-to-value with Arctic Wolf is one-month vs. 10 months for just a traditional SIEM or logging tool.
Incident responders saw a reduction on 90% of their tasks, freeing them up to perform other value-add IT tasks.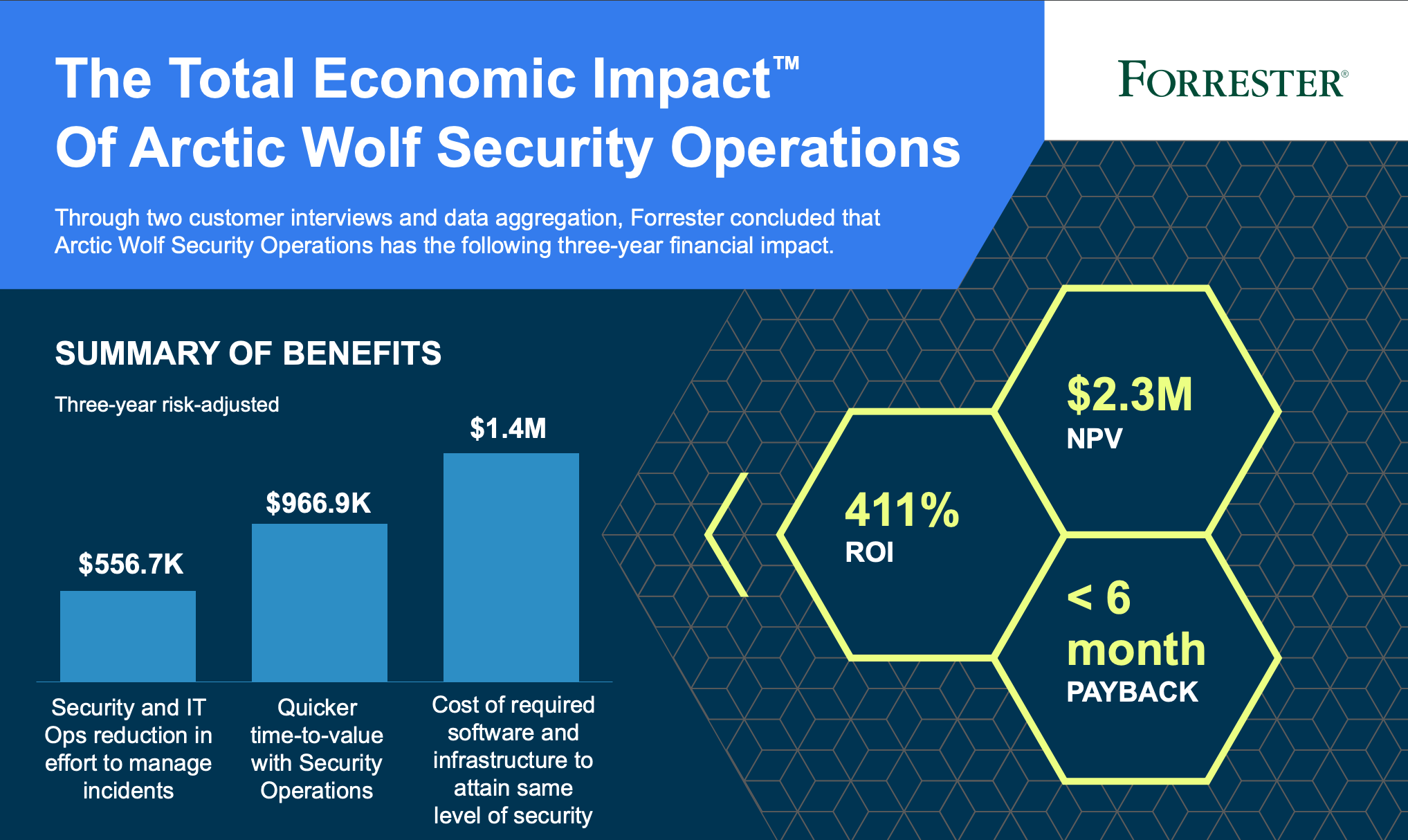 Info from the Total Economic Impact Report, for more results, check out the full infographic.
At both organizations, security capability has become easily scalable, where previously it was an arduous process to hire and train qualified professionals. With Arctic Wolf, organizations were able to accomplish more without overworking internal resources.
"Without having to increase staffing in any way, shape, or form, we're able to increase to a true 24×7 operation. The correlation and monitoring activity, we've got it all now."

-CSO, financial services
Download the full TEI report along with the the infographic to find even more information and gain deeper insight into how Arctic Wolf can help your organization improve its security posture, while also saving you valuable time and money.